Beauty & Self
Books & Music
Career
Computers
Education
Family
Food & Wine
Health & Fitness
Hobbies & Crafts
Home & Garden
Money
News & Politics
Relationships
Religion & Spirituality
Sports
Travel & Culture
TV & Movies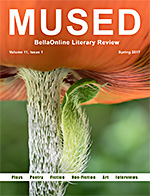 In our modern world of 24-hour diners and around-the-clock email, it sometimes seems as if we've lost track of nature's cycles. But then the Spring Equinox comes along and reminds us to pause. For thousands of years, cultures around the world have recognized this one special day as representing a balance of light and dark. It's a unique moment in time where our world settles in equilibrium – just for a breath. And then the sunlight shines out and pulls us deeper into Spring.

Enjoy the Mused Spring Equinox 2017 Issue



Enjoy being a grandmother, Bangalore, India
Romantic Getaways - Marianne de Nazareth, Editor

It's a whole new experience being a grandmother anywhere in the world




How To Live With Purpose
Daughters - Tuculia Washington, Editor

Why are you here? Do you think you have purpose? Do you know what's expected of you in life? Check out how to know your purpose and how to help find out someone else's.




The Hollow Point Film Review
Drama Movies - Angela K. Peterson, Editor

An Arizona border town is rocked by violence when a drug cartel assassin comes to town. Ian McShane and Patrick Wilson star as small-town law enforcement trying to contain crime that includes weapons smuggling and murder.




Ultra-cool Dwarf and the Seven Planets
Astronomy - Mona Evans, Editor

When a planet was first discovered around an alien sun in 1995, it was big news. Now we know thousands of them, so it takes something special to get into the news. In February 2017 one team hit the jackpot: a star with seven Earth-sized planets, three of them in the habitable zone.




Kong Skull Island Movie Review
Action Movies - Dianne Walker, Editor

His job was to protect the island and control the creatures that could threaten the world. He was doing just fine until scientists and the military invaded his world. Kong will stop at nothing to protect Skull Island.




Growing and Planting Rhubarb
Landscaping - Connie Krochmal, Editor

Although rhubarb is botanically a vegetable, the U.S. Customs Court in 1947 declared it to be a fruit since that was how it is used.


| Google+ |
E D I T O R R E C O M M E N D E D
Investing $10K in 2015


Have you received a windfall or inheritance? Confused how to manage it? Many people find the subject of investing to be complex. It doesn´t have to be. You can manage your money yourself.
Fall in Love With Your Feminine Power


This 8-week DailyOm online course incorporates meditation, energy healing, and women´s energetics work to help you heal, empower and awaken your connection to your feminine energy body. It includes print materials, video, and guided audio meditation. No prior meditation or energy work experience necessary. Embrace your full power, health, joy, and spirit!
Addicted to Stress by Debbie Mandel


A Woman´s 7 Step Program to Reclaim Joy and Spontaneity in Life (Hardcover) In this highly original program for stress reduction, stress management expert and radio personality Debbie Mandel explains that women who are constantly stressed out have forgotten the dreams of the free-spirited girl living inside them before they became somebody's wife, mother, or workplace colleague.