Beauty & Self
Books & Music
Career
Computers
Education
Family
Food & Wine
Health & Fitness
Hobbies & Crafts
Home & Garden
Money
News & Politics
Relationships
Religion & Spirituality
Sports
Travel & Culture
TV & Movies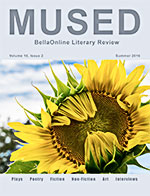 For many people, summertime is the perfect time to explore creativity. Plein air artists bring easels to gardens and beaches, showcasing nature's colors in oils, acrylics, and watercolors. Photographers ferret out a million sights to immortalize. Poets and writers stretch languidly beneath a shady oak tree, listening to the gentle buzz of insects, and constructing entire worlds out of the ether.

Enjoy the creativity of our community of artists - and then explore your own! We'd love to see your works for upcoming issues!

Summer Solstice 2016 issue of Mused

Reducing College Stress
Distance Learning - Patricia Pedraza-Nafziger, Editor

Creating a balanced lifestyle is a great way to begin minimizing stresses in your life. Managing your activities and organizing them in a fashion that makes the most of your time is one the keys to eliminating factors associated with stress.




Dali chi Bhaji Recipe
Indian Food - Sadhana Ginde, Editor

Dali chi Bhaji or usal (Stir Fried Moong Dal) is a tasty & easy to prepare dish thatís packed with protein. This healthy Maharashtrian recipe can be eaten for breakfast, as a tea time snack or as a part of any delicious Indian meal. This dish is pure vegetarian, vegan, low carb & gluten free too.




The Beaches of Coronado
California - Korie Beth Brown, Ph.D. , Editor

Looking for a great San Diego area beach? Coronado Island has plenty of them!




Virabhadrasana II
Yoga - Korie Beth Brown, Editor

Virabhadrasana II is one of the key standing poses. It's important to use it for more than just a way into and out of other open hip poses.




The Trinity and Significance of Number 3 in Art
Art Appreciation - Camille Gizzarelli, Editor

Whether youíre religious, or not, the Bible eludes to groupings of 3 as well as Greek mythology. Iíll discuss art where the theme is in the power of #3.




When You Bring Pickles to a Potluck
Etiquette - Lisa Plancich, Editor

Labor Day and Potlucks go hand in hand. Make sure your hands arrive with the proper covered dish and something to drink.


| Google+ |
E D I T O R R E C O M M E N D E D
The Eye of Adoption


Jody Cantrell Dyerīs down-to-earth, honest account of her experiences with infertility and the adoption process will have you laughing and crying. Perfect for anyone interested in learning more about adoption!
Stranger Safety Video


From Julie Clark, the mom and creator of the Baby Einstein series stars as the super energetic safe side chick in her highly entertaining, yet kid-sized educational video to teach children about strangers. Julie Clark, along with John Walsh the host of Americas Most Wanted Show have created a video packed with sound advice on Stranger Safety for kids age 2-10.
Christian Living Site Shop


Find book reviews of Christian Books both fiction and non-fiction. Read my experience in purchasing a Bible Book Cover.