Beauty & Self
Books & Music
Career
Computers
Education
Family
Food & Wine
Health & Fitness
Hobbies & Crafts
Home & Garden
Money
News & Politics
Relationships
Religion & Spirituality
Sports
Travel & Culture
TV & Movies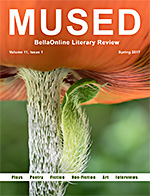 In our modern world of 24-hour diners and around-the-clock email, it sometimes seems as if we've lost track of nature's cycles. But then the Spring Equinox comes along and reminds us to pause. For thousands of years, cultures around the world have recognized this one special day as representing a balance of light and dark. It's a unique moment in time where our world settles in equilibrium – just for a breath. And then the sunlight shines out and pulls us deeper into Spring.

Enjoy the Mused Spring Equinox 2017 Issue



The Steel Kiss Book Review
Suspense / Thriller Books - Karen Hancock, Editor

While Amelia Sachs pursues a killer, a man falls inside an escalator; while trying to save the man, Amelia loses her killer. Lincoln agrees to help with a civil suit, and the suspense begins.




Congress and Education 2017
School Reform - Maeve Maddox, Editor

A principal goal of the 115th Congress is to abolish the federal Department of Education. Wherever you stand on the issue, you would do well to consider the ramifications.




Ella Autie Book Review
Reading - Connie Mistler Davidson, Editor

Ella Autie by Catlaina Vrana is an informational picture book about autism that is written and illustrated by a young autistic woman. With charming illustrations and forthright text, it tells the story of a 4th grade girl with autism. The book shows how understanding autism can lead to friendship.




Choco-Nut Chunk Cookie recipe
Cooking for Kids - Kymberly A. Morgan, Editor

A super easy, super healthy snack that your kids can help you make. They are Packed with nutrients, and your kids will never know they are clean cookies! You can have your cookie and eat it too. You'll want to make these over and over again!




Chamaeleon – the Southern Stellar Lizard
Astronomy - Mona Evans, Editor

Chamaeleons lived in lands exotic to 16th-century Europeans. Yet although color-changing lizards are fascinating, Chamaeleon the constellation is a small, dim southern sky constellation with no associated mythology. Why does it even exist? Is there anything of interest there?




Needleart 1921 edging #6
Tatting - Georgia Seitz, Editor

These patterns are from the "Needleart" magazine Vol.8 #3 published in 1921 on page 17 and continued on page 68. There are seven patterns of varying degrees of difficulties. The designs are intended for underwear but today's fashions would also be enhanced on outer wear as well. More this summer.


| Google+ |
E D I T O R R E C O M M E N D E D
Ni Hao, Kai- Lan: Super Special Days DVD


This Ni hao, Kai- Lan DVD: super Special Days is great for preschoolers who are fans of the show, or for preschoolers who need help identifying and managing negative emotions.
Stranger Safety Video


From Julie Clark, the mom and creator of the Baby Einstein series stars as the super energetic safe side chick in her highly entertaining, yet kid-sized educational video to teach children about strangers. Julie Clark, along with John Walsh the host of Americas Most Wanted Show have created a video packed with sound advice on Stranger Safety for kids age 2-10.
Christian Living Site Shop


Find book reviews of Christian Books both fiction and non-fiction. Read my experience in purchasing a Bible Book Cover.