Beauty & Self
Books & Music
Career
Computers
Education
Family
Food & Wine
Health & Fitness
Hobbies & Crafts
Home & Garden
Money
News & Politics
Relationships
Religion & Spirituality
Sports
Travel & Culture
TV & Movies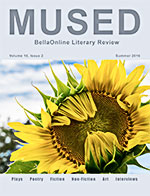 For many people, summertime is the perfect time to explore creativity. Plein air artists bring easels to gardens and beaches, showcasing nature's colors in oils, acrylics, and watercolors. Photographers ferret out a million sights to immortalize. Poets and writers stretch languidly beneath a shady oak tree, listening to the gentle buzz of insects, and constructing entire worlds out of the ether.

Enjoy the creativity of our community of artists - and then explore your own! We'd love to see your works for upcoming issues!

Summer Solstice 2016 issue of Mused

Blue Bacon & Potato Patriotic Pizza Recipe
Quick Cooking - Karen Hancock, Editor

Stars and Stripes are always in style on patriotic holidays. This pizza is quite unconventional, but it's festive and delicious.




Summertime Sobriety
12 Step Recovery - Kathy L., Editor

Summer is usually a time for most of us to feel more relaxed or to have a more casual life style. The season can also be a slippery slope especially if we become a bit lazy in our recovery and forget who we are.




Patriotic Cakes and Firecrackers to craft
Crafts for Kids - Launa Stout, Editor

Kids love to help with these cakes and they are proud to show off what they "made" or "decorated".




Sewing Denim
Sewing - Cheryl Ellex, Editor

Instantly familiar, endlessly versatile, at once old and new, the fabric we know as denim and the many clothes, accessories, and home items it has so readily adapted to, has enjoyed steady popularity since the mid 1800s.




Independence Day Resurgence Movie Review
Action Movies - Dianne Walker, Editor

Twenty years ago we won the war. Or did we? The alien queen is back and the world is once again in the fight for it's very existence. Liam Hemsworth, Jessie T. Usher join Bill Paxton and Jeff Goldblum in this action-packed sequel...Independence Day - Resurgence.




Six Signs of a Spiritual Awakening
New Age - Deanna Leigh Joseph, Editor

Since we have entered into the age of Aquarius, people seem to be experiencing a spiritual awaking, and this seems to happen in waves! 

Here are the signs you may be going through a spiritual awakening!


| Google+ |
E D I T O R R E C O M M E N D E D
The Weiser Field Guide to Cryptozoology


The Weiser Field Guide to Cryptozoology by Deena West Budd includes information, interviews, and stories about forty different cryptids seen in various places all over the world by credible eyewitnesses like policemen, rangers, and doctors. Readers will learn where and how to find flying humanoids, hairy humanoids, giants of all kinds including rabbits, bats and spiders, goblins, and vampires.
Making and Dressing Cloth Dolls


This ebook contains patterns and step by step instruction for making 5 different cloth dolls. These are some of the most popular dolls on the Doll Making Site all together in one handy book.